Introduction to the FinCEN Patriot™
The Financial Crimes Enforcement Network, (FinCEN) is a division of the U.S. Department of Treasury and provides a network or a means of bringing people and information together to fight the complex problem of money laundering.
The mission of FinCEN is to support law enforcement investigative efforts and foster interagency and global co-operation against domestic and international financial crimes; and to provide U.S. policy makers with strategic analyses of domestic and worldwide money laundering developments, trends and patterns. FinCEN works toward those ends through information collection, analysis and sharing, as well as technological assistance and innovative, cost-effective implementation of the Bank Secrecy Act (BSA) and other Treasury authorities.
The FinCEN Patriot™ is an application that is designed to help financial institutions and other government mandated industries to be in compliance with the regulations of the USA PATRIOT Act and other governmental regulations.
These laws require that all U.S. financial institutions must monitor all financial transactions performed by or through them to detect those that involve any entity or person subject to the FinCEN 314(a) laws and regulations.
Program Overview
The FinCEN Patriot™ provides the ability to be in compliance with these regulations in the most cost-effective and least time consuming manner.
The FinCEN Patriot™ is based on Microsoft .NET 4.8 Framework. This is Microsoft' most up-to-date Framework version as of June 2022 which is necessary to run applications that run on Windows systems. The Patriot Software installation package contains a .NET 4.8 Framework executable file that automatically detects if the users system has the necessary .NET 4.8 Framework installed which is required to effectively utilize the Patriot Software. The FinCEN Patriot™ is a database-matching engine that allows for single entry searches of existing client and/or new applicant entries, as well as entire client databases, against the U.S. Department of Treasury's FinCEN 314(a) database.
In the event the .NET 4.8 Framework is not detected on the users system during the Patriot Software installation process, the .NET 4.8 Framework will automatically be installed on the system and then the executable file will self-destruct and delete itself from the users system. This process is completed in order to protect the hard disk resources of the users system by minimizing use of disk space.
This "user friendly" software application has an Update FinCEN Files function that allows you to expeditiously import the routinely updated information you receive via email from FinCEN that contains the Person List and the Business List files of information.
FinCEN Patriot™ Benefits
The FinCEN Patriot™ is competitively priced to meet your budgetary needs
The FinCEN Patriot™ license purchase provides the purchaser with an unlimited user license for multiple workstations and users (some restrictions may apply)
Full technical support is available via email or telephone
The FinCEN Patriot™ Graphical User Interface (GUI) provides for ease-of-use and a clear understanding of all functions and capabilities
The FinCEN Patriot™ is scalable to add or change functionality and can be customized to meet your needs
The FinCEN Patriot™ is network ready and can be installed on a server along with multiple workstations on a network or individually on single workstations
Competitors programs are written in "Basic" language which will soon be phased out by Microsoft and the FinCEN Patriot™ is written in an object-oriented programming language that is based on .NET technology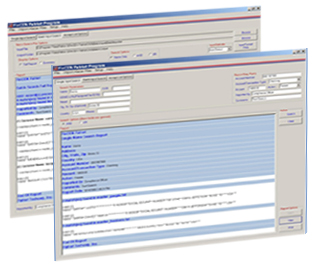 Key Features
The FinCEN Patriot™ is currently available in a Windows, Multi-Batch and .DLL versions.
Click here to view the product version matrix.
| Feature | WIN | WEB | M-B | DLL |
| --- | --- | --- | --- | --- |
| Live Update/Import Data Lists | | | | |
| Recognize Different File Formats & Delimiters | | tba | | |
| Build Custom Accept Lists | | tba | | |
| Share Common Data Lists/Files/Reports | | tba | | |
| Network Ready | | | | |
| Single User Enabled | | | | |
| Multi-User Enabled | | | | |
| Single Search Functionality | | | n/a | |
| Batch Search Functionality | | n/a | | |
| Review Search Results | | | | |
| Print/Save Search/Audit Reports | | n/a | | |
| Schedule Automated Batch Searches | n/a | n/a | | |
| Scalable for Modifications & Integration | | | | |
(WIN = Windows version, WEB = Web version, M-B = Multi-Batch version, DLL = .dll version)
*** 2022 New Client Package: SPECIAL $525 - Includes licensure for both the OFAC Patriot™ program < Windows & Server Versions >, & the FinCEN Patriot™ program. Annual license renewals remain at the same cost with no pricing increases. ***** We offer special discount pricing for smaller institutions and volume licenses. *****
Published fee schedule for financial institutions is as follows, based upon asset size:
| Financial Institution Asset Size | Annual Price |
| --- | --- |
| < $50M | $550.00 |
| $51M - $100M | $650.00 |
| $101M - $200M | $795.00 |
| $201M - $300M | $1195.00 |
| > $301M | Please call or email for pricing request |
To enquire about pricing for non-financial institution clients, product customization, or software application integration options for developers, please send your enquiry information via email to Dr. Michael Lee:mlee@patriottechcorp.com
In order to download a no-obligation, 10-day trial evaluation version of the FinCEN Patriot™ program, please click this link and select the program and version that is suitable for your application: link.
Request a Free Trial
Download a no obligation 10-day trial evaluation version of any Patriot product today!
---
Registered clients login to access extended resources and downloads.